women Hair transplant in Turkey
Hair loss is not only a matter for men as it is known, according to statistics, hair loss affects one in five women. This problem directly affects one's appearance, which leads to a loss of self-confidence. Therefore, the best solution to eliminate the problem of hair loss in women is to undergo a hair transplant.
Hair transplantation is the most effective and permanent solution for the problem of hair loss. Since the causes of hair loss in women are different from men, different techniques are followed, especially in the process of hair transplantation. Unlike men, hair loss in women is in the back and center of the head and a small percentage in the front.
Women's hair transplantation is done by shaving the donor area until the hair is obtained from the donor area, but with the development of techniques related to hair transplantation, today it is easy to transplant women's hair without the need to shave the hair, and we may find that the hair after the end of that surgery appears as natural as Women get results faster than other methods.
The no shaving technique used for women hair transplant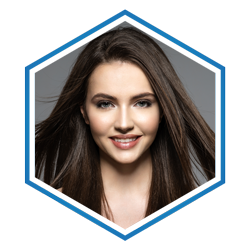 The (DHI) technique is the technique used in hair transplantation without shaving, and it is the favorite of many women who do not want to shave their hair.
Hair transplantation with Choi pens for women:
The DHI technique is one of the latest methods through which hair follicles are implanted with extreme precision in the scalp or various areas that suffer from voids without the appearance of any distortions or scars for life, as is the case in the technique of the slide or the technique of picking, Where these pens depend on making very precise incisions that do not exceed 0.2 mm in the scalp or the follicle donor area, which is often behind the ear or in the back of the head in women, and are even implanted at the same moment, making this process take place during only one session.
Women Hair transplant operation steps:
The duration of hair transplantation depends on the need for the number of follicles, and the surgery does not take much time and after only a few days, the new hair will look like natural hair.
before the operation:
The donor area in the body is determined, often the back of the scalp, and the number of follicles that the woman needs to fill in the blanks is determined.
During the process:
The specialized doctor locally anesthetizes the woman and uses Choi pens to obtain the follicles, then opens channels in the areas where the hair transplantation will be carried out.
After the operation:
After the hair transplant operation is completed, the place of transplantation is covered with a bandage for a period of two days, and two days after the hair transplant operation, the bandage is removed and the hair is washed, and the patient should consult with the doctor on all the necessary precautions after the operation